Publishing Your Site Is As Easy As 1-2-3 With Our SiteBuilder!
B

uilding and maintaining your site couldn't be easier with a Website Builder! Whether you need a one-page website or a site with full eCommerce capability, RISING TRIBE HOSTING simple website sitebuilder has got you covered! Sign up now for the best site builder software you'll find anywhere!
APPRENTICE
1 Page
100 MB RAID-10 Storage
FREE Shared SSL Certificate
24/7/365 Support
Anytime Money Back Guarantee
SKILLED
10 Pages
50GB RAID-10 Storage
FREE Shared SSL Certificate
24/7/365 Support
Anytime Money Back Guarantee
ADVANCED
20 Pages
150GB RAID-10 Storage
FREE Shared SSL Certificate
24/7/365 Support
Anytime Money Back Guarantee
EXPERT
UNLIMITED Pages
200GB RAID-10 Storage
FREE Shared SSL Certificate
24/7/365 Support
Anytime Money Back Guarantee
The Very Best SiteBuilder Software!
It doesn't matter if this is your first or hundredth site; the Rising Tribe Website Builder is the fastest, easiest and best way to build and maintain your site! Learn more about why we have the very best site builder software!
Choose A Theme
Select your website template from a number of attractive, pre-designed site themes
Design Your Site
Customize your site's pictures and text within the intuitive A2 Website Builder interface.
Publish Your Site
Preview your site or simply click the Publish button to show it off to your audience.
Frequently Asked Rising Tribe SiteBuilder Questions Get your Rising Tribe SiteBuilder questions answered here! Do you have any further questions? Our friendly and knowledgeable 24/7/365 Tribal Support team is standing by to help! Just contact them via live chat or email!
Web Hosting Services - Need A Different Solution?
Don't see a service that fits your specific hosting needs? Don't worry, we have you covered! Looking for a new domain name or SSL Certificate? We've got you covered there as well! Just click the button below to visit our Web Hosting comparison page. That's where you'll see a full breakdown of all of our high speed hosting services.
Developer Friendly
Since our launch in 2003, we've had a strong focus on loading your account with the best versions of the most popular development software.
High Performance
A mere 1-second page load delay impacts your bounce rate, SEO rankings and even your conversion rate. You won't have to worry about any of this when you choose Rising Tribe Hosting and our screaming fast SwiftServer platform! !
Perpetual Security
An average of 30,000 sites are hacked each day globally. Our Perpetual Security measures help prevent you from becoming the next victim!
FREE Site Transfer
Are you ready to move your site to Rising Tribe Hosting, but nervous about doing the actual site migration to our servers by yourself? Don't be! In most cases we can move your site for free. Just contact our friendly 24/7/365 Tribal Support team!
Even if your not a Developer - we have a plan for that?
Apprentice
Skilled
Advanced
Expert
Best Simple Web Site Builder
Creating Your Site With The RISING TRIBE SiteBuilder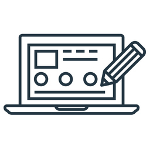 If you're looking for an easy, affordable and quick way to get your website up and running, look no further than the Rising Tribe SiteBuilder! After choosing the SiteBuilder Hosting plan you want to use, you'll get sent an email with details on how to log into your cPanel control panel. Click the Rising Tribe SiteBuilder icon in your control panel to get started. Get your site up and running in minutes by selecting your template, creating your content and publishing your site. You'll love how easy it is to use our SiteBuilder.
Web Hosting Included With Your SiteBuilder!
One of the top advantages of the Rising Tribe SiteBuilder is that not only do you get access to our website builder, but you also get web hosting all within a single service! Many SiteBuilder solutions require you to purchase the software, but does not include web hosting. That requires you to build your site and then find a Web Hosting solution. Not at Rising Tribe Hosting. You get the Rising Tribe SiteBuilder AND Web Hosting all bundled together!
WE KEEP EXCELLENT COMPANY
Our users know we'll help them achieve their goals